I get it.  The girls (meaning the under 8 crowd I roll with that call me "Mommy") have asked, almost without pause, since August first "Can we go shopping? Can we? Can we?". No more lazy, hazy days of summer.  Schedules.  Ballet.  CCD.  Homework. Lunchboxes. Piano. It's here.  School. I have accepted the fact, my white flag is a flyin'..
But for the time being, let's get's back to that part about shopping shall we?
Give a backpack.   You've hopefully already purchased your kids Tom's shoes, now purchase them their backpack.  Along the same lines, buy a packback and they donate backpacks and school supplies in communities that are not equipped to do so.  As of August 18, 2010, the company has donated 2,068 supply filled backpacks!  Can you imagine not being able to provide basic educational supplies for your child as they go off to school? Then buy two backpacks and make yourself feel a lot better. 
You know how once school starts, you're required to label every single item that your child brings into the school/sports field/school bus/daycare/world? Well you don't have to.  Let Mabel do it.  Mabels Labels that is.  Let them know your child's name, and they will send you the awesome-est labels ever invented.  They actually stick.  To everything. All the time.  
We are moms who were frustrated by the amount of stuff that left our houses, never to return. After lots of research and testing we created the perfect labels for the stuff kids lose.
Our sticky labels and clothing labels are dishwasher, microwave and laundry safe, and customized with a child's name, choice of colours and icon.
They even offer Allergy labels-as an Epi-pen carrying mama, these are genius!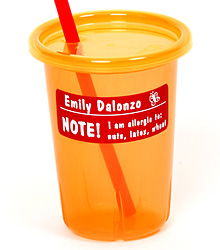 They even offer back to school packs (a little bit of all their labels), but hurry..like the lazy hazy days of summer, they're only available for a limited time (until September 24) so hurry or you'll miss the bus;)
"If there were no schools to take the children away from home part of the time, the insane asylums would be filled with mothers."