Hello Everyone Kimberly Here!!
I have now just recovered from my day at the mall yesterday with my three boys. Yes, back to school shopping is here... I must divide and conquer!! Yesterday was the boys... tonight....... my daughter. I remember the joy of shopping for my kids, picking out adorable outfits, matching accessories and so on and so on. Fast forward to 2010.... A 9 year old daughter, twin 7 year old boys! (Thank goodness for my youngest who still has no opinion I can still throw in an outfit here and there I love!) 
Last year I started out at The Children's Place. I love their 2 for sales, perfect when you have twins I bought them loads of jeans and rugby style shirts.... adorable! Well they decided that they didn't like how the jeans felt on them and I figured out that they had trouble with the buttons and snaps at potty time. ( Classic Boys) I was not prepared for them to tell ME what they would be wearing. Being as a good mom and listener I obliged! They loved the comfort of track pants and they are easy to pull on and off. ( Ok! I'll buy it) Happy Kids, Happy Mom, Happy Mornings!!!
The best places to find these hot comfy items are.... Old Navy, Walmart, Gap Kids and Lands End. I hate to do this to The Children's Place but the waist on their pants run soo  big! 
 Boys Graphic Mesh-lined Basketball Pants $14.50              Boys Rec Tech Track Pants $16.50
Walmart Boys Starter Track Pants $7.00           Gap Kids Athletic Pants $19.50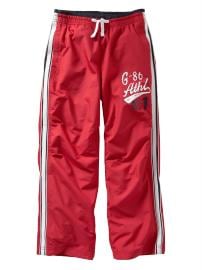 I must say I love the Gap's quality but my boys are sooooo hard on their clothes I have been buying out the Walmart pants and Old Navy when they run specials!! It saves me from beaking down in tears when I see a rip in their knee!! Now onto tops... this year I am going to be  bit frugal and layer some long sleeve t-shirts under their existing T's. I buy in every color the plain long sleeve T's from Target $ 6.00! Grab em while you can they go fast!! 
Fall in New England means cold mornings and warm afternoons. My boys have mastered how to remedy this problem and never be cold at school! They love their fleece pullovers!!
Gap Fleece Zip Hoodie $ 24.50               Old Navy Fleece Logo Pullover $ 16.50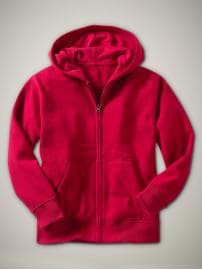 Lands End Kid's Micro-Fleece $ 19.50 ( Dylon's Favorite!) Keeps him snuggley warm in the class room! He wears these all fall, winter and spring!
and now for the cool kicks........
Jordan Basketball sneakers.... We scored these on sale at Olympia Sports for $ 51.99. These are all my boys wear until the snow but I am loving the Sketchers Urban Track Rain Boys Oxfords $ 40.00 @ JCPENNEY as well as the Arizona Li Jack Toddler Shoe $ !9.99
As we all know for boys and men it is all about comfort!!! Choose these items well because as we all know they get attached to things!! LOL!!