Hello Everyone,
I was twittering... hmmmmm....is that the right terminology? a few minutes ago and I came across a tweet from Instyle magazine. They asked Kim Kardashian to give tips on how to dress a curvy body.   This is what she had to say........ and I the "conventional" curvy Kim  added my thoughts as well.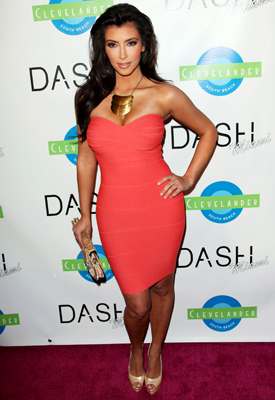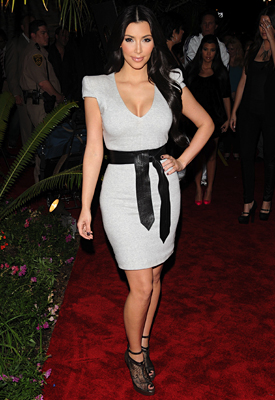 Find a Great Tailor
"Anything you wear should be proportioned to your body, and a good tailor will make sure everything fits perfectly. I either have my tailor at every fitting or I have my stylist pin my wardrobe and take it to the tailor before I wear anything. Shortening a hem line on a dress can make a huge difference!" I agree Kim Kardashian but real life mom's don't have stylists however you can enlist the services of great sales people at boutiques and retail stores. They can help you find clothes that will fit your body closely enough that it can give you that tailored look. They may also know of an affordable tailor in your area or on site if you truly need one. So don't be afraid to ask them for help! It will be their pleasure I guarantee it!
Accentuate Your Waist
"Show off that tiny waist! Adding a belt makes your outfit look more polished. I have great belts from Phillip Lim and Alaia. Vintage belts are one of a kind and can be affordable too." and you have a 20" waist Kim!! Ask Christina! I have a phobia about showing my waistline!! but when she does get me to try a belt wrapped around my waist it really does look great. Something you may want to try... you may love the way it makes you look! I'll try to embrace that look this fall! Pinkie swear!! 
Avoid Oversize Tops and Dresses
"I know they are comfortable and they look amazing on Nicole Richie but flowy tops and dresses are not flattering on a curvy figure. They can make you look pregnant and they look sloppy in photos. Try wearing a maxidress instead. A.L.C, Torn by Ronny Kobo and T Bags make some great ones."  Agreed!! I wore a tight black dress to a charity event last February and when I took of my wrap I remember Kate saying.." You look so skinny have you lost weight?"  I get that a lot when I wear fitted clothing! She is right.. it works for curvy girls! 
Embrace Shapewear
"Every woman from a size 0-14 should own Spanx! I love Shapewear by Body Wrap; they have a firm control long leg panty that makes my body look smoother and slimmer under fitted dresses without leaving any lines."  YES!!! I went to a wine tasting last winter and I wanted so badly to wear my cream sweater dress!! I was kicking myself when I realized I didn't have any spanx! My panty lines looked horrid!! I now own two pair... that will never happen again! If you find yourself at a mall just buy some and put them away for when you need them! You will be so happy you did!
Love Your Curves!
"Being confident and owning your body is sexy. I love to show off my curves and designers like Thatcher, Antonio Berardi, Preen, Altuzarra, Markus Lupfer and Brian Litchtenberg make amazing dresses that fit my body perfectly."
As we can see they do! I must admit I have no idea who any of those designers are but when I do make it big someday they will certainly be on my list! Til then... I will take the advice from this modern day siren!!!!  Make a few of these great adjustments to your wardrobe and Love! Love! Love! your curves!!! 
XO Kimberly