Yes, I am still in a daze from last nights fashion extravaganza on-screen at the  Sex and the City 2 premiere.  I remember years ago, visiting Patricia Fields eponymous stores in NYC and being shocked by all going on.  The colors, the clothes, the employees..for a girl from a small town in Massachusetts, it was all I could to do to keep my mouth up and off the floor. 
Holy guacamole, what.. what.. what..I thought to myself. 
There are no words.  Visit it for yourself.  
Flash forward to last night and movie stylist Ms. Fields has once again made it nearly impossible to keep my Mac glossed mouth up and off the floor.  
Holy guacamole.  What..what.. what...
Except this time I was joined by an audience of (predominantly) women who gasped and ooh-ed and ahhed at every outfit, shoe, and bag with me. 
Un. Real. 
Spend this Memorial Day weekend with Carrie, Miranda, Samantha and Charlotte. If for no other reason than to spend two plus hours dreaming of this being appropriate car pool attire.....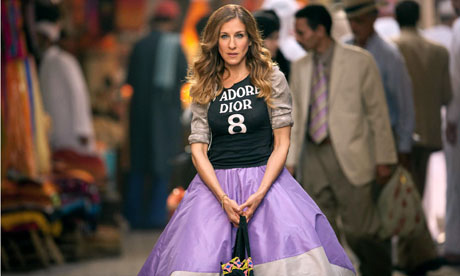 photo courtesy of the guardian uk
xo Kate