so most families choose to reunite at seaside resorts, mountainside cabins, or perhaps a country estate? Not my gang.  
It's a month out, and I'm already planning out my outfits.  Warm weather.  Elvis.  Uninterrupted sleep. Tears are rolling down my face as I type.  
So here goes..I want to be dolled up but not so dolled up that I am asked why I'm not on stage.  I tend to lean towards the boho look when the weather warms up but this is Vegas, baby.  I need to glam it up.  Pile on the gold jewelry and break out the color.  And maybe learn how to drink booze again? Yikes..did I mention we're meeting up for my cousins 21st birthday party? Maybe the tiger will be in his closet? Not mine...
I have a few thoughts, and few dollars.  Here's what I've come up with so far.  A little different than the last time I went to Vegas as a fashion girl in the 90's but still edgy enough for this haute mama.
Seeing it is a 21st birthday party, let's start at Forever 21.  Cheap, trendy + honestly if it lasts a season I'll be happy. 
this is cute-not so sure how it'd hang on my "these hips were made for birthin'" 
Striking red would not be a color I wear on a daily basis.  Maybe it should be. Love both of these.
On to Old Navy. Yes, you can make Old Navy and glitzy Las Vegas work.  
Have this dress in this stripe + black.  Love this dress in this stripe + black. Good day dress. Again, piled with gold accessories + of course the aviators
ehh..a maybe..Sky high black platforms + some chanedeleir earrings could make this happen. 
On to shoes.  Shoes I will invest in.  Especially these babies:
KORS Michael Kors 'Paris' Sandal
But once hubs finds the receipt + sends me back to Nordy's I'll probably have to settle for these:
Jessica Simpson 'Cally' Sandal
They almost, almost fall into the so bad they're good catagory.  However remember this is Las Vegas and while normally this much gold wouldn't fly with me, I make an exception for the land of showgirls + all night buffets.  I am going to be in Paris and Venice in one day people.. And for 43 bucks? They match the aviators. 
So I am dying to hear what the other haute  mamas would pack for me! 'Til then..
cheers haute mamas!
kate
Hello Haute Mamas it is Kimberly!!
While I am incredibly Jealous of Kate's Fabulous trip to Vegas without the 
husband and the kiddo's I also feel she is very deserving of it!!
If I were in Kate's shoes I would completely re-invent myself for the trip.
Have some fun while on vacation.
You are no longer in your home town or the office so why not?!!!!
If you are traveling with your significant other have some fun
with them and show them a side of you that will keep them 
daydreaming about your trip together for years to come.
if you all for reinventing yourself there is no better website out there 
than Rent the Runway.. you can get designer clothes that retail for
a couple hundred dollars to thousands for as low as $50 dollars to rent.
It is a dream come true for us Haute Mamas that are on a budget.
The website is www.renttherunway.com.
If I were styling Kate for Vegas this is what I would pack for her.......
This first Dress you could go day to night in..... BCBGMAXAZRIA...... 
One of my absolute favorite designer's!! Sigh!!!!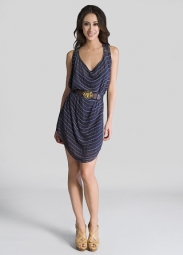 http://www.renttherunway.com/product/goldengirloneshoulderdress

http://www.renttherunway.com/product/ropeemdress
Poolside Kate you could totally pull this off........
Juicy Couture Skirted Bikini at Nordstroms.com
and for sightseeing and shopping from BCBG.com.......
Pack a great pair of wedges like these from Victoria Secrets.com
Kate and I are very passionate about our accessories we love to be stacked!! haha!! I mean bracelets that is.. Here are some beautiful accessories from Boston Proper.com 
Don't forget the sunscreen and also hit the makeup counter and play around with all the great new makeup and products out there!! 
Oh I could go on and on.... Kate have an amazing time!! 
Love ya Haute Mama,
Kimberly